After 16 years of continuous innovation and development, CMF has now become one of the two major international honorary organizations in the world of insurance. No matter in the curriculum system or the honorary system, CMF leads the industry, making the mediocre excellent, the excellent better, and the world insurance workers be more respected for CMF!
In order to better serve the world's insurance workers, CMF has never ceased to work hard. We always go to the world with our original aspiration of starting from love, so that more insurance workers in the world can understand CMF, follow CMF, and fall in love with CMF. From October 15 to 27, 2019, CMF international marketing department launched a two-week visit and exchange trip to Hong Kong, Macao and Taiwan.
Hong Kong
This trip to Hong Kong has been warmly welcomed by major insurance companies in Hong Kong. We visited Prudential, AIA, BOC life, Manulife and FTLife. After they have a deeper understanding of CMF's honor system and curriculum system, their directors have expressed strong support to let more Hong Kong insurance practitioners enter CMF. Through CMF, we can exchange and share experience with more insurance workers around the world, understand the insurance culture of various countries, broaden our horizons and have cross-border thinking.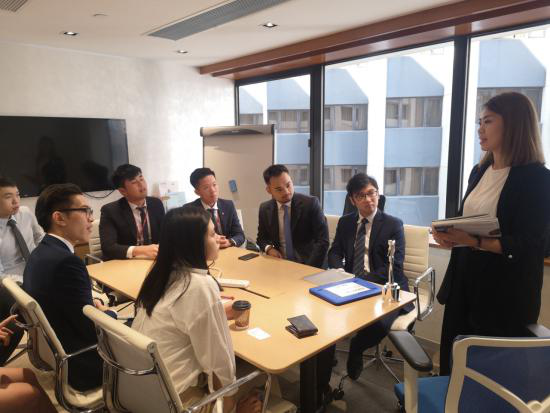 Macao
Although the trip to Macao is only a short day, we are honored to visit the most representative predecessors of Macao's insurance industry. They have participated in the CMF conference in the early stage, expressing positive affirmation for the development of CMF in recent years, and also believing that more elites of Macao's insurance industry will appear on the CMF stage in the future.
Taiwan
Under the leadership of the Secretary General of CMF in Hong Kong, Macao and Taiwan, Dr. Deng Jintian, CMF representatives were invited to participate in the conference of Taiwan insurance industry organization. During the conference, CMF listened to the sharing and understanding of the leading figures in the insurance industry in Taiwan and deeply experienced the great love spirit of insurance. This is also the principle that CMF always adheres to, starting from "love" and "heart".
After the meeting, CMF went deep into the workplace of major insurance companies in Taiwan to exchange and learn about the current situation and demand of Taiwan insurance market, and also let the insurance industry in Taiwan understand the curriculum system and perfect honor system of CMF. I believe that in the future, CMF and Taiwan insurance industry will have more opportunities for cooperation, inject new energy into Taiwan insurance industry, and let more insurance workers improve their social values because of CMF.